Hunting Camera
【1080P Video Ultra-High Resolution】-1080P HD and 16MP resolution deliver stunning vibrant images and clear audible videos even during the dark night, with built-in 2.4″ LCD color screen, it moves you closer to watch wildlife.
【IP66 Waterproof & Heavy-Duty 】-Use high-grade IP66 materials, extremely durable from seal to probe lens. protects your trail camera, ensure that can prevent rain-proof, drop-proof and dust-proof, and also ensure it could work in tough environments like tropical rain forest or desert.
【Amazing Faster 0.2s Trigger Speed】-The trigger distance is up to 25m(80ft) day/20m(65ft)night. Once movements are detected, the lightning-fast trigger speed of less than 0.2s with 1 to 3 shots choice guarantees fast and accurate capture of each detected motion exposed to the field of this game trail camera hunting before shooting.
【120°Wide Angle Lens & 48 PCS No Glow Infrared LEDs】-Trail game hunting camera is equipped with 120° detecting range, which allows you to get an excellent broader view. 48 PCS no glow infrared LEDs, which makes it a stealthy unit that does not intrude into the natural habitat. It will record any animal movements you want with a wide-angle lens even on rainy days.
【 Easy Install & Widely Used】-Hunting with the gifted mounting strap, it is easy to install this trail camera hunting sturdy. You could apply the hunting camera to wildlife observation and hunting, home/property security, farm area surveillance, remote crop.
How to Start the Camera?
1: Open battery box, and put 4 High Quality AA batteries to Camera.
2: Insert micro SD memory card(Class 10)with 8-32G to camera.
3: Put the switch to "ON" position, the indicator light will flash 1-2 times to go out, camera will enter PIR detect status.
(Please try at night or in a dim environment, otherwise the flash will not be seen clearly)
4: It will take 3 photos and 10s video record when it has PIR detected.
5: It will not take photo and video recorder when it doesn't have PIR detect, it will enter standby status or shut off
Packing List
Hunting Camera
Packing Box
USB Cable
A Strap
Card Reader
User Manual
Please Note
AA batteries are not included
Memory card are not included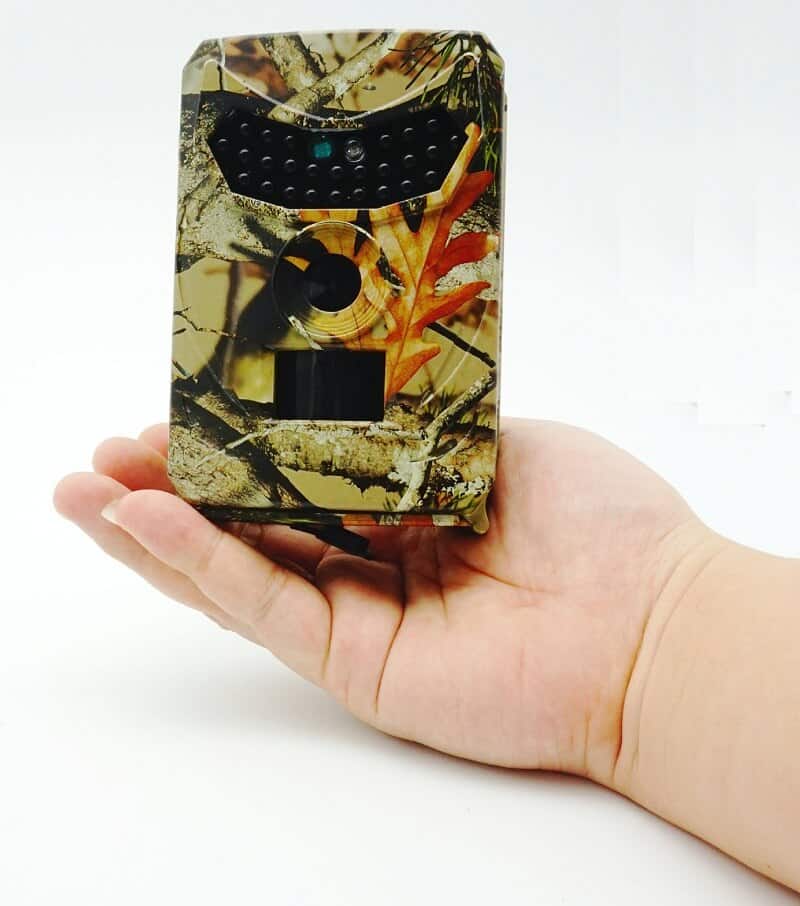 Q&A
Q 1: When I start the camera, why I can't see the light flash ?
A 1: You can see it clearly at night or in a dark environment
Q 2: Why I can't take photos or video?
A 2: It will not take photo and video recorder when it have PIR detect, if there is no movement in the surrounding environment, it will not take photos.
Q3: I can only take 3 photos, why?
A3: It take 3 photos by default, if you need take 4 or 5 photos, you need to set it according to the instruction manual